Habitat Living Sound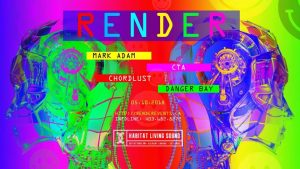 Reflections of the past and crystal clear visions of the future rendered as audio visual signals, transmitted to your eyes and ears by some of Calgary's most dedicated resident artists and guests. Treat your synapses to one of the most unique and sensory immersive nights in the city.
Reverse rotation, adjust and escape perception and reality – tap into alternate streams of consciousness in real time through technology, music and enhanced video.
Audio:
Mark Adam
CTA
Danger Bay
Chordlust
Visuals:
Mark Adam
Chordlust