The Palace Theatre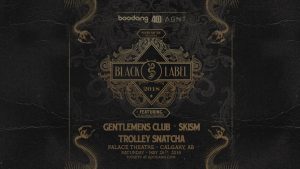 ♦ SATURDAY | MAY 26TH | 2018
♦ THE PALACE THEATRE | CALGARY
♦ BLACK LABEL TOUR 2018
♦ LIMITED PRE SALE AVAILABLE!
Boodang, 403Clubbers, present:
SKISM
facebook.com/weareskism
soundcloud.com/weareskism
twitter.com/skism_uk

GENTLEMENS CLUB
facebook.com/gentlemensclubuk
soundcloud.com/gentlemensclubuk
twitter.com/gcuk_
TROLLEY SNATCHA
facebook.com/trolleysnatchuk
soundcloud.com/trolley-snatch
twitter.com/trolleysnatch
Support Artists
TBD
Support for this event will be booked through AGNT.
If you have not set up a profile, download the app from the apple store or go to www.agnt.com
❂ VENUE ❂
THE PALACE THEATRE
219 8th Ave SW
DOORS AT 9PM- NO MINORS
18+ ID Required No Exceptions! Licensed Event. Alcohol
Served.
TICKETS
Early Bird- $20 LIMITED AMOUNT
TIER 2- $25
TIER 3- $30