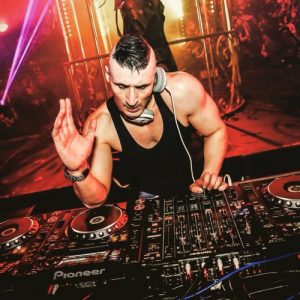 One of the UK's finest, Kissy Sell Out continues to be a hugely influential name in electronic scenes all over the world.
Whether it's the highly sought-after DJ edits he manages to thrash out 4-at-a-time from the Pioneer CDJ 2000s he has helped develop, or his charming personality and stage presence, there is a level of mischievous determination about Kissy which seems effortless and genuine. It's this aspect of Kissy's live shows which often divides audiences into those who dance and those who simply stand a stare, with their camera phones held high, as the young DJ speeds through tune after tune before their eyes.
Based in East London, his time between tours is filled with commitments to the independent record label San City High Records. This is a project he founded while still studying at London's Central St Martin's art college, and is the label he now manages entirely from his music studio and Shoreditch office with his like-minded team.
Joined by an impressive roster of artists – who are often discovered first by SCH and then encouraged to collaborate with associated labels like Mad Decent & Dim Mak – San City High has a family dynamic like siblings collaborating with each other – making tunes, designing record sleeves and always, always having fun!
Having hosted the hugely successful "Kissy Klub" show on BBC Radio 1 for over 3 years, this summer marks a return to radio which has already sent the cult following of online Kissy Klubbers into a frenzy. The new "Kissy Klub" show will broadcast every last Thursday of the month on Pioneer DJ Radio 8-9pm GMT and past episodes and a huge amount of free content can be found on the iTunes top-4 ranking "Kissy Klub Podcast" (www.bit.ly/KISSY-KLUB-podcast).
As crowds continue to flock toward the big man with a big heart and an even bigger sound….the party rolls on. LONG LIVE THE KISSY KLUB!!